How to Start A Blog in an Hour or Less
This guide is for anyone who wants to start a blog or website.
This is the very first step in creating your online business and I can assure you that it is as simple as you thought. In this guide, I will go back to the beginning and make sure you can create your first blog within an hour. So let's get started now!
How to Start a Blog?
Having a blog or website is essential start for any online business. It takes a lot of patience, hard work and persistence to build one for the purpose of generating passive income.
The following 3 things are what you need to jump start your blog and BLUEHOST does it all within 15 minutes:
➀ Domain name
➁ Hosting company
➂ Blogging platform
---
The Basics Understanding
Before you start your blog, it is good that you have the basic understanding of what is a domain, hosting and a blogging platform.
Domain name is the web address of a website. For example: www.yourname.com
Hosting company is a housing that stores all your information, data, images etc just like your CPU. When you have a domain name registered, you want other people to see your website. This is when you need a hosting company that help you store all the data and information to the web server. Hence, when someone search for your website, the internet will connect to the web server that holds all your information and then transfer back to the person's computer to view the pages of your website.
Blogging platform is software that turns a site into a functioning blog where it helps to managed your data like articles, documents, videos, photo and much more.
---
Why do you need to register a Domain name?
➊ Search Engine refuse to list pages from free sites like bloggers, WordPress etc. With a domain name registered, your site will get the priority to be listed by search engine, which means your site will rank higher, probably in the first few search pages of Goggle search.
➋ You will have a personal website link which ended with www.yourname.com rather than www.yourname.com/wordpress
➌ It will increase your brand name recognition, increase the level of trust and integrity which indicate that you are in a serious business.
➍ Having a domain name makes it easy for your customers to remember you.
➎ A good domain name are reserved daily, meaning your chances of a name you have in mind may be taken at anytime, so it is advisable to registered as soon as you have a good name in mind.
➏ It is more professional to have your domain name like www.yourname.com in your name card or letterhead.
---
Why choose Bluehost?
I have done my research for several days and I found out that there are many hosting company like Hostgater, Godaddy, ipage and Bluehost.
But Bluehost ease my pain as it does all for me from hosting to domain name to one-click WordPress installation. All these can be done within 15 minutes!
Note: My websites are hosted by Bluehost and you can read below the incredible experience I had with them. If you are planning for your first site, I would highly recommend using Bluehost. Yes, I do get a commission if you decide to purchase from my affiliate link but it is at no additional cost to you.

7 reasons why I choose Bluehost:
✓ Domain and Hosting: When you sign up with Bluehost hosting account, you get a free domain name for life.
✓ Best Deal at $3.49/Month: With Bluehost, new customers will get an unbeatable discount price at $3.49/month (43% discount).
Although hosting terms are billed up front but the confidence Bluehost gives the freedom to their customer to cancel at any time for a prorated refund!
The most reputable wordpress.com recommends Bluehost. Need to say more? Moreover, they have a one-click WordPress installation at their C-panel after signing up with Bluehost because they are wired.
✓ Famous Blogger recommend Bluehost: Darren Rowse, Pat Flynn, Tim Ferris are the most popular blogger and all of them recommend Bluehost and I can rest assure my choice is right with Bluehost.
See what they have to say: Darren Rowse, Pat Flynn, Tim Ferris
✓ Reliability: I did not experience any downtime with Bluehost till date. That is probably why they receives 30,000 new sign-ups per month. I read some review elsewhere from a Bluehost's customer that she receive only a few downtimes, but she always got an explanation what went wrong and how long the technical team need to solve the problem. It is true that no web hosting provide 100% uptime but Bluehost is as close to this magic number which is why many clients had stay with them for years as they are too satisfied with Bluehost.
✓ Great Customer Service Support: Their customer service is excellent. In fact, it is my number one reason to sign up with Bluehost. They provide 24/7 via phone, email and online chat which help me anytime I need. Their online chat support is the most beneficial to me as I am not based in the U.S (calling them is expensive) and I just prefer a real-life human that can answer my queries and solve the issue as soon as possible (email is slower). What impressed me is that the loading time for chat is not more than 5 minutes unlike the rest of the hosting company I tried. You can try chatting with them yourself by clicking the "Support Chat" button at the bottom of Bluehost website (Make sure you are not trying for fun.)
---
Why Choose WordPress?

Now, you might be thinking why I chose WordPress as my blogging platform.
Here are the few reasons to go for WordPress:
✓ It is FREE: WordPress is free for anyone and it is yours for use forever. They don't charge now or in the future so it is perfect for business entrepreneurs.
✓ Search Engine Optimization (SEO): WordPress is search engine friendly, meaning your site will be rank higher up in the search results page. There are excellent SEO plugin available which can also help to fine tune your website rankings if needed.
✓ Great Plugins: Plugins add additional functionality or features to your website and are often free to install.  It can do almost anything which consist of shopping carts, social media, fonts, eCommerce and much more. Currently there are 34,310 Plugins available for download.
✓ Choose your Theme: A theme makes your website look designed in a minutes after installing. The most important thing is they are free which will save you tons of money from hiring someone to build a website from scratch. You can select and change your theme anytime you like which save you lots of time too. If you need a premium theme, you can actually get them from $25 onward (One Time Fee).
✓ Web Browser Compatibility: These days, the new theme is compatible with almost all web browsers (IE8+, Firefox, Chrome, Safari, Opera). Some people are not worried about web browser compatibility, but you need to understand that your audience use different type of browsers and you should not leave anyone behind.
✓ Content Management System (CMS) Solution: WordPress is a great CMS platform. It allows anyone who is inexperience to use. This mean you don't need to have programming or coding knowledge and if you are new to WordPress, give yourself some time to know the basics and you will get the hang of it very soon. WordPress comes with an editor which is quite similar to Microsoft Word's function. If you can use Microsoft Word, I don't think it will be difficult for you.
---
How To Build a Blog 
Now, I will walk you through the process from setting up a hosting, domain and installing your blogging platform.
Let's roll in!
Step 1: Go to Bluehost website > Products > Select Shared Hosting


Step 2: Select the package you prefer.
Their "Starter" package start at $3.49/month (43% discount) but I will recommend getting their most popular "Plus" package at $5.95/month given that almost everything is unlimited except you only have only 1 domain name. But if you are uncertain, you can start off with the starter package first as you can upgrade your package at anytime.


Step 3: Give your website a name (My favourite step! 1 domain name is FREE!).
Type in the domain name in the fill provided to check for availability as they might be already taken (Domain name sell fast).
Tips: It will be wise to pre-select at least 3 different names just in case your first choice is already taken.
How to choose a Domain name?
◆ Your brand or business name: Using your creativity to choose a unique name so people can remember it.
◆ Search engine friendly name: This means by choosing an obvious name relevant to the type of product or service you have. I prefer this the most because it helps people to find your website through keywords searches from the search engine. Think in the customer's perspective and list down the keywords- how will they search for your business?
◆ Other Considerations: Easy to spell and pronounce? Keep it short, not too long as people will not remember it. Are you targeting locally or worldwide as you may need to plan what what suffixes extensions to use.

⌘ Suffixes extensions:
You will be offered a variety of domain name with different suffixes extension. Suffixes serve different type of company, organization or target different countries. So you may need to consider them when choosing the domain name.

| | |
| --- | --- |
| Suffixes | Meaning |
| .com | For business and commercial used. Most popular. |
| .org | For non-profit organization |
| .net | For network organization such as service provider |
| .info | For information sites |
| .us | Serve to target United States of America audience. Each country has its own unique extension. |

Step 4: Skip to Step 5 if your domain name is available for registration.
If the domain name you've chosen is not available, you will be prompted to a page to make an alternative domain name suggestion. If you do not like any of domain name provided, please type in another domain name and check for the availability.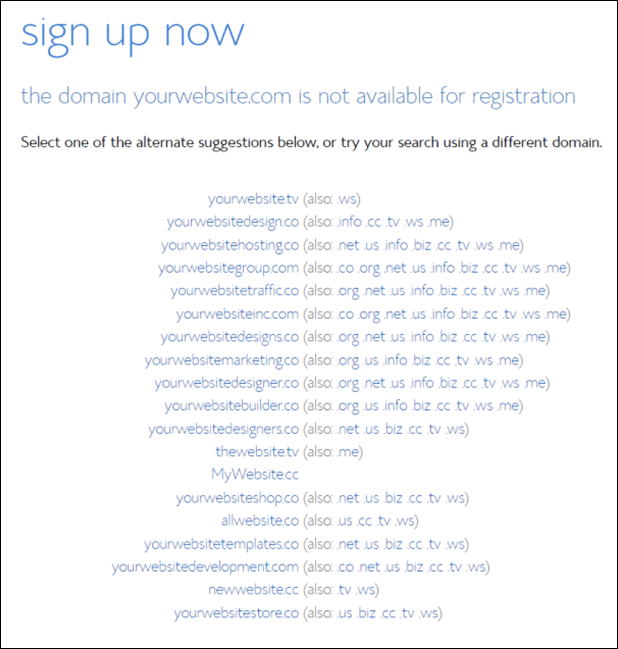 Step 5: Now fill up your particular and you are good to go.

WordPress gave you some option to choose if you want the following:
Domain Privacy Protection:
When you register your domain name account, your particular like name, address, contact number and email address will be shown public to anyone on the internet. If you do not wish to get harvest by marketing companies to promote you any service, you might want to opt in for the protection.
Site Backup Pro: You don't have to worry for losing your data or files. Bluehost will safeguard your site with their automatic online backup if you opt for this. Recovery made easy for you.
SiteLock Domain Security: SiteLock tells your customer that you are a trustworthy business by verifying your credentials such as email, phone no. and address. This allows you to increase conversion rate on your site meaning more buyers. You can read more on this by clicking on more information.
Search Engine Jumpstart: You want to get found by Google, Yahoo and Bing? This allow rapid indexing meaning you will be listed quickly by the search engines rather than waiting for months. Highly recommended if you wish to get faster results.
Google Apps for work: You will get cloud storage, shared calendars, business email and more if you opt in for this. You can read more on this by clicking on more information.
Note: You can add on any of these anytime you want if you do not wish to add them to your main package now.

Step 6: Congrats! Next, click "Create your password"

Step 7: There are 3 different passwords you need to choose.
➊ Main Password
➋ Billing Password
➌ Control panel password
I don't believe in superpower memory to remember all my passwords, I have too many other accounts, so do you?
The best is to write the passwords down somewhere but of course you need to protect and safe keep them.
But please don't keep your passwords in your mobile phone!


Step 8: Login to your account after you are done

Step 9: Select "I can do it" (DIY).
Select "Do it for me" if you need professional to help you with the set up. Of course, that is if you are okay to pay for it. 


Step 10: Now you are at your Bluehost C-panel. C-panel work like your desktop computer, it stores all your data and information just like your computer. Your audience will be able to browse the articles, video, pictures etc you have posted on your website because C-panel act like a main computer serve to everyone 24/7.
Next, you want to install your WordPress blogging platform, select "One-Click installs" icon under Mojo Marketplace found at your C-panel.

Step 11: Choose WordPress.



Step 12: Click the "Install" button.


Step 13: Choose the domain name you have created to install it.

Step 14: Click "Show Advanced Options"
I recommend you to edit the username and password for WordPress installation here for better protection.
But you must remember the username and password as this will be your wordPress login account.
After you are done, read through the "Terms and Conditions" and check on the box.
Then select "Install Now".

Step 15: Now you are done with WordPress installation, click on to "Admin Login" now.


Step 16: Login with your WordPress username and password.
Step 17: Welcome to your WordPress Dashboard, this is where you can start designing your blog or Website!
You've officially created a WordPress blog using Bluehost!
Hopefully this step-by-step guide was helpful to you and once again congrats to you.
(/◕ヮ◕) Right!
Now you may want to learn how to use your Wordpress platform!
So let me show you how to get started!