What Did I Learn From Make Money with Internet Marketing?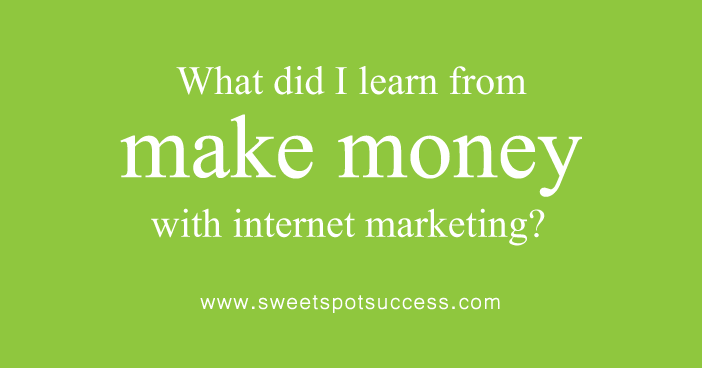 The existence of internet marking started in the early 1990's where people started to use simple website to sell for its products/services. But somehow "Get rich quick" schemes gave a bad reputation to the world of internet marketing which mutate how the way people perceive internet marketing.
Often, you can identify these "Get rich quick" schemes as pyramid scheme or MLM programs. While they can't be avoided, the only way to protect yourself from falling into these scam is to become smarter shopper, which mean you Goggle online to find out about the company review.
Here's what I learnt during the course of how to make money fast with internet marketing.
● There is no short cut in life that allows you to make money fast from get rich quick program, so get rid of the idea if you are planning to learn how to make money fast.
● Making money online can makes you a millionaire but it does not if you are chasing after the money. Which mean your goal to make money should be secondary not your primary goal. Your primary goal should be a business goal that leads to monetary goal and the more specific your business goal is, the more it allows you achieve it.
● To make money online legitimate, you need to have something in exchange, a valuable product/service for your customer. This is business and so if you want to make money online, start an online business. 
● In this modern day world, starting your online business is the only fastest route to your success. Start with your passion, follow by idea, then execute it.
● Being an internet entrepreneur or online marketer, you should think about working towards passive income goal. In the initial stage, it is crucial to invest time upfront by building the asset, from website, product to content etc. Like Pat Flynn said, as an onlinepreneur, you work hard now to continually reap the benefits later. You can have a goal of making a million dollar of sales in a year but ultimately to truly enjoy the dotcom lifestyle, passive income should be the goal instead.   
● Same as traditional business, you will need to build a system for your online business; an automated system that run the business for you.