How to Find a Profitable Niche Market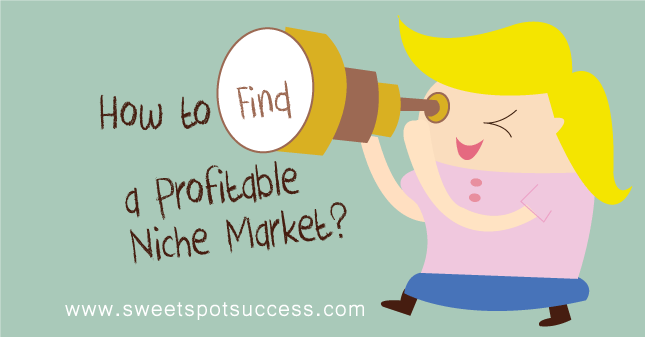 What is a niche market?
A niche market is a segment of a market which you focus to sell your product or services to. Simply put, instead of selling to the huge market, you need to focus and sell to a small portion (a segment) of the market. The types of market segment can be divided by demographic, geographic, behavioural, psychological or benefit sought by the customer etc. This way, you would be able to have a stronger marketing strategy designed and implemented to target the market segment.
For instance, "How to make money online" is a wide topic that interests almost everyone in the market. You can target a particular making money topic such as E-commence, email marketing, affiliate marketing, content marketing etc.
Other instances:
In the "Losing weight" market, you can target " Fat loss after childbirth"
In the "Investing" market, you can target "Forex Trading for beginner"
In the "Relationship" market, you can target "Making your marriage last"
Targeting a niche market is advantage for new entrepreneur especially when you have little capital to start (I am going to explain this in just awhile), moreover the marketplace is already too crowded .

So let me explain why little capital is required when you target a niche market.
I will be using an E-commerce business as an example.
On average, people change their mobile phone almost once in every 2 years in Singapore. By offering mobile phone accessories in the marketplace, you would be able to enjoy a higher mark up as selling accessories is where the real money is made.
However, unless you have loads of capital to start with, you can sell many types of accessories with variety of designs available from mobile casing, earphones, screen protector etc.  But not many new entrepreneurs have that huge capital for a start up. This is why going niche is the best for start up company with little capital.
You can choose to market a segment of people who prefer to have a personalised mobile phone casing design for them or a segment of people who prefer silicon casing for more protection to their mobile phone. They are two different benefit sought by the customer and it doesn't require huge capital setup cost.
Conversely, there are 2 key criteria you would need before starting any business.
I will call it the Profitable Passion.
Note: The word "Passion" is used interchangeable with "Niche" or "Topic". It's just the marketer's lingo and as the time when you learn, you will start seeing more lingos. In any way if you encounter any words or phrase that you don't understand at all, please go to dictionary to learn more.
Find a Profitable Niche Market for your Online Business
Profit
The product or service you offer must be making you money for the effort and time you put in. Otherwise, your business will not be sustainable in the long run. Besides, making money is why you started a business in the first place. Without the mindset of making profits, your business will die sooner or later because you need money to survive.
As we are living in the modern digital world, every new entrepreneur will be able to start an online business with low set up cost, running an automated business which minimize risk in investing money as compared to a brick and mortar business.
My philosophy to a green entrepreneur when they start an online business is, you can risk wasting your time and effort but not the money. Besides, starting an online business requires minimum money and you should start learning to build an online business step by step to gain an experience.
Once your business start to fly off, generating you with enough profits, you can then consider to invest the money in an automated system, outsource part of your work to someone else, scale up or expanding the business. This way, you will then free up more time to achieve time freedom.
Remember, doing any businesses is a step by step process, be it offline or online business, you will need to have a strong mindset to earn money. There is no short-cut, no quick money to be earned online. It is a real business that you want to build, make sure you have the never give up attitude and put close to 99% effort and time to build the pillars of your online business empire especially if you consider yourself a green entrepreneur.
Passion
It is pretty obvious that if you have the passion, you would need to have the knowledge or skills in order to succeed in the niche.
Without the passion, you wouldn't enjoy what you are doing and soonest or later, you will call it quit because you are just too exhausted and everything you do will just feel nuisance to you. So before you start, ask yourself if you can see yourself running the business for the next 5, 10 years or longer.
However, do make sure you are equipped with the knowledge or skills for your niche. Knowing your stuff best in the marketplace allows you to come out with a better solution or idea to your customer. Thus, allowing yourself to become differentiate in the marketplace.
Being differentiated is also the reason why your potential customer may decide to make a purchase from you since your offering is unique in the marketplace. Moreover, it allows them to remember you in the crowded marketplace which is great and they will most probably help you spread the word (Free Marketing).
To help you get started in identifying your passion, ask yourself what is your significant personal achievement, academically, life experiences, hobbies etc.
A self assessment would allow you to identify activities that you may have spent a considerable amount of time doing, learning and working on. Review it and see if these list of ideas can be turn to a profitable passion.

Let me give you some tips…
#The 3 Most Profitable Niches
Usually the most profitable niche revolve around Maslow's hierarchy of needs.
Let me explain, Maslow believed that people have an intuitive desire to be self-actualized. In order to achieve this, a person must meet the most basic four layers of needs in the Maslow's pyramid (food, health, love and-self esteem). He also pointed that a person will feel more motivated and strives for higher level of success in life after they met their basic levels of needs.
See image below.

So if you are working towards the information product industry, the 3 most profitable niche topics are:
1. Relationship (Marriage, Dating, Parenting, Pregnancy & Childbirth etc.)
2. Health & Fitness (Beauty, Women's health, Spiritual, Weight loss and diet etc.)
3. Business & Investing (Entrepreneurship, Careers, Real estate, Forex trading, Equities & Stocks etc.)
These are the 3 areas where majority of the people will be spending their time and energy on. Generally, by achieving these 3 areas in people's life, it will help to improve their life, make them successful and happy. It is an inborn desire that most people wants to achieve and given that they are not an easy to attain goals, people are very willingly to spend their money on.
Of course there are many more profitable niches beginning to populate in the marketplace due to the technologies revolution… and they are:
4. Computers (Database, software, Web Hosting, Programming etc.)
5. E-Business & E-Marketing (Affiliate marketing, SEM & SEO, Article marketing etc.)
That is the reason why I always like to emphasize to new entrepreneur to follow the digital trends to look out for the BIG thing.
Right…. There are also other profitable niches to look out for under the basic level of needs which one could not forgo.
They are:
Food: Quick meal, easy meal, Western cuisine, Asian cuisine, budget meal, finger food, healthy canapés, dessert recipes, yoghurt ice-cream etc.
Entertainment: Feeling sought such as excitement, relax, fear, pleasure etc.
Fashions: Budget, customized, dress, tops, T-shirts, bottom, comfort, Men's apparel, wedding dress, accessories etc
I hope you have a general idea by now. Basically, before you serve any market, it is important to identify a profitable niche you want to serve at best.